Our Story
Since 1945, Sherrill has been selecting only the finest in home furnishing materials and bringing them to life by hand-crafting each piece using techniques passed down from generations of skilled North Carolina artisans. Whittemore-Sherrill LTD carries on this tradition by selecting only the finest leather hides from around the world, blending them with American-made, eight-way hand-tied frames and painstakingly building and tailoring every one to your exact specifications in our North Carolina facility. The result is unparalleled custom-made leather upholstery designed and built to fit your life.
At Whittemore-Sherrill Limited, every piece is handcrafted by a team of skilled technicians who have spent years perfecting their trade. As many as 70 experienced hands help create each piece ensuring that it is enjoyed for generations. Our commitment to quality is what has made the Whittemore-Sherrill brand so respected for over three decades. 
Frame Construction
Whittemore-Sherrill blends traditional hand craftsmanship with modern manufacturing methods to produce frames that are among the finest used in the upholstery business. Each frame is precisely cut and hand assembled using kilned dried lumber. Double dowels are utilized in all structural parts to form sturdy, long lasting joints. To complete construction and add stability to the frame, large precisely cut corner blocks are positioned at each corner where the greatest stress occurs using both glues and screws.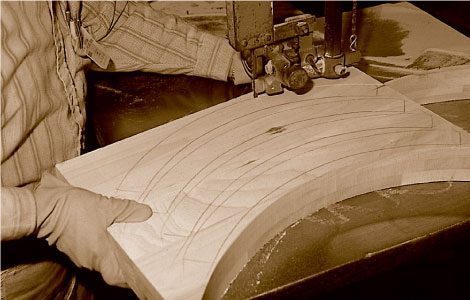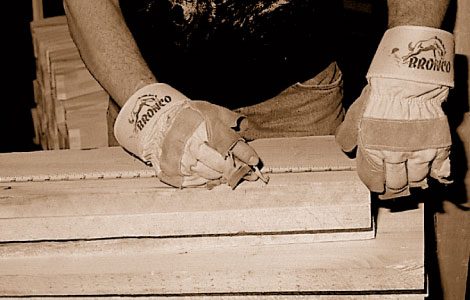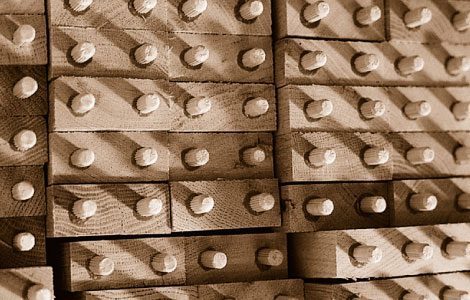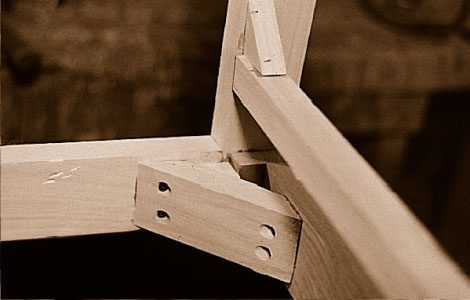 Eight-way Hand-tied Spring System
The eight-way hand-tied system and full web bottom is characteristic of high quality furniture and is traditionally the best known technique for insuring long lasting comfort. Whittemore-Sherrill mounts a solid interlace web bottom of each frame. Springs of various gauges and heights are securely attached to the full web bottom using clinch fasteners. The individual spring coils are hand-tied and bound together in eight separate directions using polyester cording. The cording is then securely anchored to the frame. A typical lawson style back has sinuous wire springs anchored to the frame and held together horizontally by coated wire to prevent turning.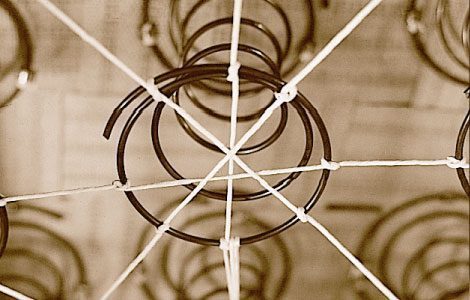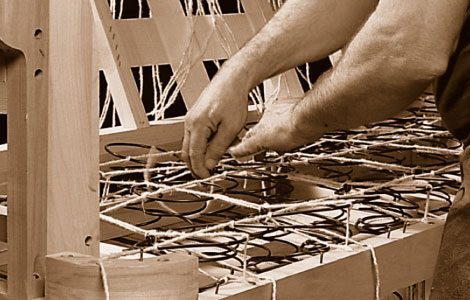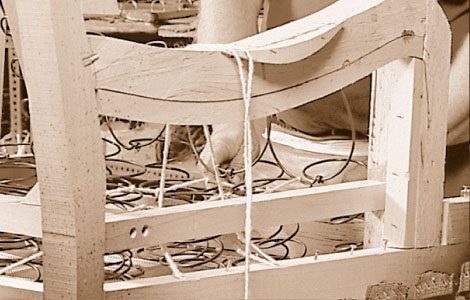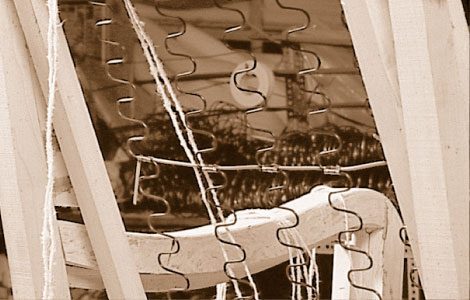 Filling Material
On most styles the standard filling material is urethane foam combined with polyester fibers and cotton felt. Marshall units are used when thickness of back and styling permits. Generous layers of polyester batting and cotton are used in conjunction with urethane foam to achieve just the right contour and comfort. Outside arms and backs are padded to assure a smoother surface and provide an extra measure of neatness.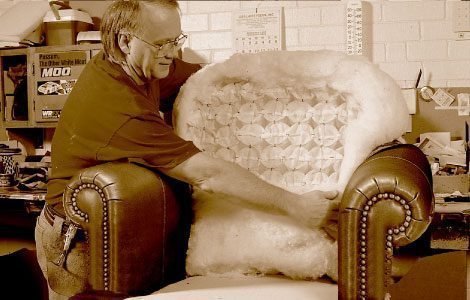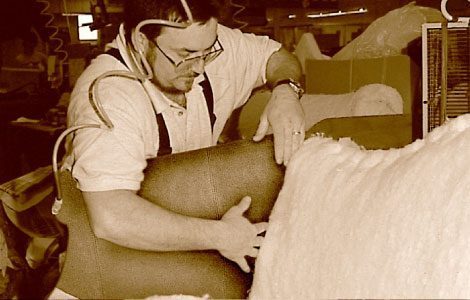 Upholstery
Each piece of Whittemore-Sherrill upholstery is hand crafted by a team of skilled technicians who have spent years perfecting their trade. A marker has the important task of laying out the pattern pieces for a particular style, paying close attention to the varying textures and distinctive features which are unique to each genuine leather hide. Each piece is cut, assembled by hand and sewn to assure that each style will exceed Whittemore-Sherrill's stringent tailoring standards. Specialized upholsters and trimmers complete the process by painstakingly hand tailoring each piece to exacting standards. Depending on design, tailoring details may include hand tufting, pleating or individually applying nail head trim.